Head Coach - Steve Davis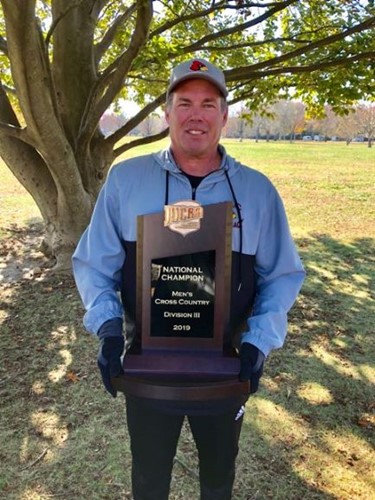 Steve Davis grew up in Southeast Kansas and graduated from Iola High School in 1977, where he was a member of the 1976 Class 3 State Champion Track team. He continued his education and Cross Country/Track career at Allen County Community College (1977-79) and the College of the Ozarks(1979-82) , after which Coach Davis received his first teaching/coaching position at the Viburnum C-4 School District in 1985. 
While at Viburnum, Coach Davis helped guide the 1986 Cross Country team to the school's first ever State Championship.  In 1990, Coach Davis was hired at Potosi R-3 where he taught and coached for 25 years until his retirement in 2015.
While at Potosi, Davis helped guide the Cross Country and Track teams to 15 State trophies, which included 7 State titles in Cross Country and 2 State titles in Track.  Coach Davis' athletes earned over 100 All State performances in the two sports, highlighted by 21 individual and 4 relay team State Champions. 
The 2006 Potosi Cross Country team still hold the State record for the lowest boy's team score at the Missouri State Meet with 16 points.  That same team is still the only Missouri Cross Country team to earn the right to compete at the Nike National Cross Country Meet where they placed 8th in the nation.  The national success of the Potosi Cross Country team lead to an invitation to the "Emerging Elite" Coaches Camp at the Olympic Training Center in Chula Vista, California, which Davis attended in 2008.
In addition to receiving several Missouri, National Federation, and J-98 Dream Team Coach of the Year awards, Davis earned his Master's Degree in Education from Southwest Baptist University in 1999, and also obtained his Level 1 coaching certification from the USATF Coaches Association in 2008. Coach Davis was inducted into the Missouri Cross Country and Track Coaches Association Hall of Fame in 2009 and the Potosi R-3 School District Hall of Fame in 2019.
Assistant Coach - Shannon O'Dell
Shannon O'Dell is entering the first year as an assistant coach for the MAC Track team.  Born and raised in Farmington, her athletic career started when she decided to run track at Farmington Middle School.  Once in high school, she flourished on the track.  A qualifier and medalist at state all four years, placing 8th in the 400 meter her freshman year, she ran on the 4x400 her sophomore year.  Shannon's junior year she placed 8th in the 100 hurdles and 6th 300 intermediate hurdles.  Her senior year she became the first state champion for women in FHS history by winning the 300-meter hurdles and second in the 100 hurdles.  
After graduating from Farmington HS in 1993 she attended SEMO on a full athletic scholarship. 
As a collegiate athlete, she ran and qualified for the NCAA Divison I Championship in the 400 hurdles. 
To this day, she still holds the FHS and SEMO school records in 300IH/400IH. 
After college Shannon began her life and work career as a registered nurse. She is a mom of 3 children. And works at St. Louis University Hospital in the neuro-trauma ICU.  
Needing to scratch that competitors itch, she found CrossFit.  After a couple of years, she decided to take training more seriously and set a goal to qualify for the CrossFit Games. Each year over 15,000 women attempt to qualify but only the top 20 make it. She qualified for and competed in the games in 2016, 2017 and 2018. At the games, she placed 13th twice and 12th in the world last year. For 2019 and 2020, she decided her body needed to rest and heal up from competitive training.  However, soon she will begin training for a podium finish in 2021. 
During Shannon's competitive career, she has been coached by some of the world's most respected and successful professionals. She has worked very hard and has earned the title of world class athlete.  It goes without saying that she is completely aware of all the struggles and feelings the student-athletes have and will have throughout their competitive career. The vast knowledge of competitive training along with her passion to see others succeed, will aide the Mineral Area Track team to their next level. The outdoor national track meet.