Head Coach - Blake Jones
Caledonia (MO)
Mineral Area College (2005-2006)
Lincoln University   (2009) 
Former Mineral Area College pitcher Blake Jones just completed his sixth season as Head Baseball Coach at Mineral Area College.  In his first season as head coach, Blake led the Cardinals to the Region XVI championship game.  In season two, MAC finished 25-25 overall record with a 16-12 record in the Region 16 and 9-7 record in the MCCAC.  Two seasons ago MAC was 31-22 and 13-3 in the MCCAC.  His fourth season was the best season yet for the Cardinals; they went 36-20 overall against a difficult schedule and finished 3rd in the Region 16 Tournament.  In season five, MAC went 27-23.  This past season the Cardinals were 32-17 overall and finished 3rd in the Region 16 Tournament. 
In six seasons, Blake has compiled a 182-133 record as the Cardinals skipper.  Coach Jones replaced Head Coach Stan Walden.   Coach Jones served as Coach Walden's assistant for two seasons and worked as Jim Gerwitz's assistant coach for two seasons prior to that.  Blake played summer baseball for Coach Walden and Hal Loughary for the Farmington Firebirds for three seasons.
Jones played his high school career at nearby Valley of Caledonia High School, where he was a three-time All-State athlete in baseball.  Jones then went on to pitch at Mineral Area College from 2004-2006.  He participated in the Region 16 All-Star game his sophomore season at MAC.  Blake then went on to finish up his baseball career at Lincoln University in Jefferson City. 
Blake started his coaching career at Lincoln University in Jefferson City where he helped the pitching staff lower its earned run average by over a run per game.  Andy Moss, a former Mineral Area College baseball player was a member of Blake's staff and was drafted by the St. Louis Cardinals.
In the last 6 years, MAC has had 18 players move on to Division I schools.  74 of their players have moved on to 4-year schools.  
2014 Record:  31-26
2015 Record:  25-25
2016 Record:  31-22
2017 Record:  36-20
2018 Record:  27-23
2019 Record:  32-17
Moved 18 Players up to Division 1 Programs Over the Last 6 Years
Moved 74 Players up to 4-Year Colleges Over the last 6 Years
2018 - 2019 28 Players with a G.P.A. of 3.0 or Higher
2016 - 2019 Qualified for Regional Post-Season Tournament during the Last 4 Years
2013 - 2014 Region 16 Runner-Up
Blake can be reached at 573-518-2283
Follow Blake @bajones37 on Twitter.
Assistant Coach/Recruiting Coordinator- Jordan Thompson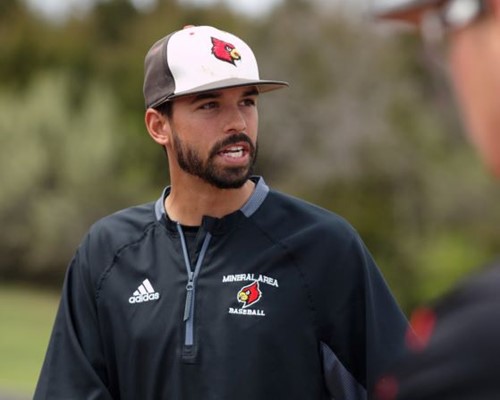 Jordan Thompson is entering his fifth season as an assistant baseball coach for MAC.  Jordan played 2 years of baseball for Mineral Area College and graduated with an AA in 2011. Jordan continued his baseball career at William Woods University for his final two years and graduated with a Psychology degree in 2013. After undergrad, Jordan enrolled in Eastern Illinois University to earn his master's degree in sports administration and kinesiology. He has been a high school assistant at Charleston high school and Bismarck High School and is excited to be back home and joining the Mineral Area coaching staff. Jordan is from Desloge, Missouri.

Follow Jordan @JordanSThompson on Twitter
Assistant Coach- Jonny Steiner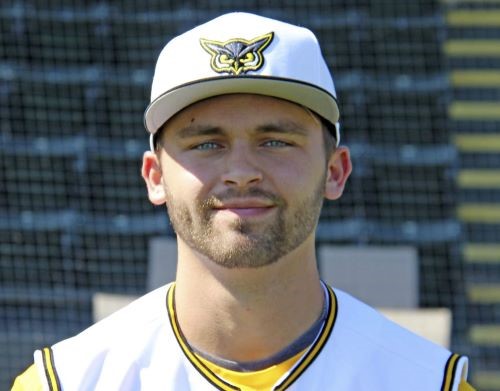 Assistant Coach - Jeremy Rettig