Coaching Staff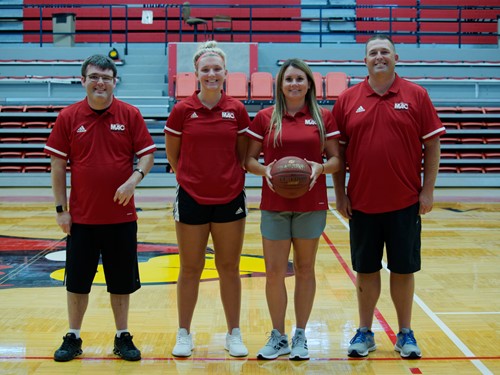 Head Coach - Briley Palmer
High School:  Farmington, (MO)
College:  Mineral Area (AA),  Christian Brothers University (B.S.) (Memphis, TN)
Central Methodist University (Masters of Education) 
The Mineral Area College Board of Trustees has approved the hiring of Briley Palmer as head basketball coach effective July 1st.  She will take over for longtime head coach Gary Koch is who retiring at the end of this season.
Briley just finished her eighth season as an assistant coach at Mineral Area.  Briley has been instrumental in the Lady Cards winning the Region 16 title two times since she has been back. In 2015, Coach Palmer helped lead the team to the school's first-ever Region 16 Championship.  In her first year, Briley helped the Lady Cards in reaching as high as #13 in the NJCAA poll.
Palmer graduated from Farmington High School in 2007 where she helped lead her team to an appearance in the state championship game.  This was the first school history.  Her senior year she has voted an All-Region, All-District, All-Conference, and Dream-Team player. 
In the spring of her senior year, she signed her letter of intent to play for Coach Koch at Mineral Area.  At Mineral Area, Palmer came in to play a big role as a freshman and carried her leadership over to her sophomore year where her team went 22-10.  In the peak of the season, Palmer was ranked 3rd in 3-point percentage in the nation. 
After Mineral Area, Briley signed to play at Christian Brothers University in Memphis, TN.  She helped lead her team to a GSC Conference Tournament appearance in her junior year.
After her senior year at Christian Brothers, she was asked by head coach Sarah Condra to be the graduate assistant for the following season.  After she coached at Christian Brothers, Briley joined Gary Koch's staff at MAC again. 
Briley and her husband Jimmy Palmer were married in the fall of 2014 and live in Farmington, MO with their daughters, Dayton and Nola.  Jimmy is the head boys basketball and golf coach at North County High School and teaches Mathematics.  
Assistant Coach - Adam Barton
High School: - West County R-4
College: - Mineral Area College (A.A.) - Missouri Baptist (B.S.) - SEMO (M.A.)
Adam Barton is one of the new members of Coach Palmer's coaching staff for this 2020-21 season.  He is a life-long resident of the Mineral Area and has been a MAC Cardinal fan as long as he can remember.. He graduated from the West County R-4 School District in 1999 and attended Mineral Area College in the early 2000s.  He is super excited to have the opportunity to be the women's assistant coach.  Coach Barton has spent the last 15 years of coaching high school basketball in our area.  He currently lives in Farmington with his wife, Jessica, and their four children, Harrison, Emily, Miles, and Mason. He is also employed at Central R-3 School District as a high school social studies teacher and assistant softball coach. In the time he has spent as a high school coach, he has seen many of his former players grow into thriving adults. A goal of Coach Barton's is to help the young women in our program to not only be successful basketball players but help them transition into the next phase of their lives.  It is his hope that as a coaching staff,  we can build strong individuals who represent themselves, their families, and our community with pride.
Assistant Coach - Briar Johnson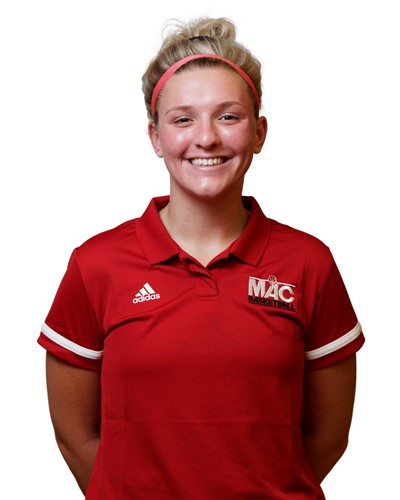 High School:  Arcadia Valley High School (Ironton, MO)
College:  Mineral Area College – Jefferson College – William Penn University – Central Methodist University
Johnson graduated from Arcadia Valley High School in 2017 and led her team in points, rebounding, and steals.  She finished her senior season averaging a double-double and compiling 1295 career points and 816 rebounds.  Briar was a 4-year Varsity starter and earned 1st Team All-Conference, All-District, and KTJJ Dream Team.  Johnson signed with Mineral Area College in the fall of her senior year and played one season and went on to play her Sophomore season at Jefferson College. During her time there she earned All-Conference honors and at one point was ranked #1 in the nation for free throw percentage. She finished the season averaging 16 points per game and ranked #2 in the nation with 92% FTP. After graduating with her Associates's Degree, Johnson received a scholarship from William Penn University, Oskaloosa, Iowa but left due to an injury. Briar is currently attending Central Methodist University to finish her Bachelor's Degree in Elementary Education. 
Student Coach - Robert Dziewa