MAC VOLLEYBALL
National Tournament Appearances: 2011, 2016, 2017,2018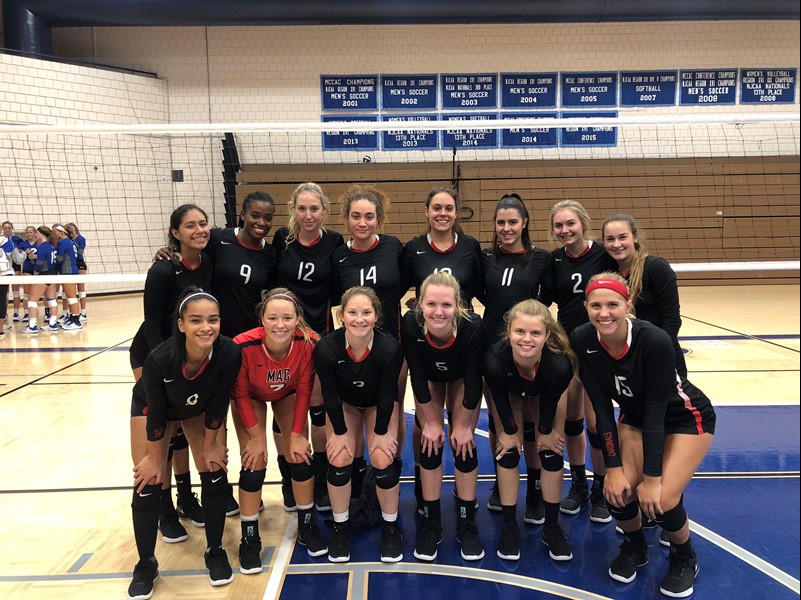 Latest News:
(7/27/20)  MAC Athletic Golf Tournament is September 18th.  Mineral Area College Athletic Department will host their 5th annual golf tournament at St. Francois Country Club at 7:30 a.m and 1:00 p.m. on Friday, September 18th, 2020.  Click on the link below for more information.
(6/5/20)  Lady Cardinals honored for their work in the classroom.  The following players earned recognition for both their play and their academic success this past season NJCAA:
NJCAA Academic Student-Athlete Awards
NJCAA All-Academic 1st team:
Solymar Santos
NJCAA All-Academic 2nd team:
Silvia Bonsanti
NJCAA All-Academic 3rd team:
Blair Busenbark
Carmen Lazaro Sanz
Baylie Petry
(4/16/20)  Lady Cards working on recruiting class for Fall 2020.  The women's volleyball team has signed some key pieces to make up their Fall 2020 team.  Below are some up the most recent players to sign with MAC.  Mineral Area has advanced to the National Tournament in 2016, 2017, 2018.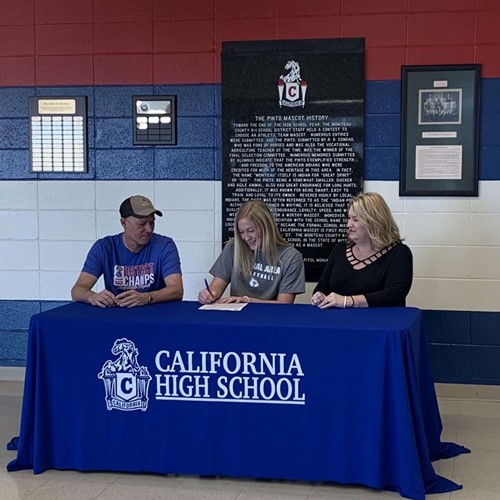 Paige Lamm (pictured above) has signed to play with MAC.  Paige was a 1st-Team All-State player for California her senior year.  She helped lead her team to a district title.  California lost to last year's state-champ Logan-Rogersville in the sectional contest.  Lamm had a great statistical year, recording 50 aces, 44 blocks and a 4.29 kills per set average for the Lady Pintos.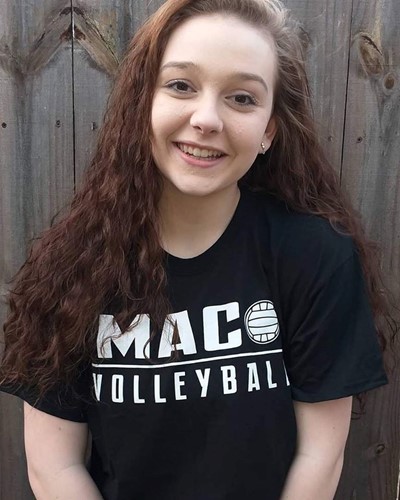 Annie Graber has signed with MAC.  She is from Branson, MO and she had 234 total kills last season for the Lady Pirates.
Local product Avery Norris will play for Mineral Area this upcoming season.  She is a setter from Central High School in Park Hills, MO.  She was team captain and a member of the Region Dream Team.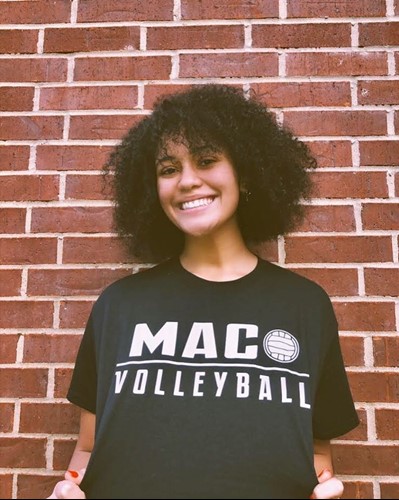 Mikayla Johnson a 6'1" middle-hitter from Jonesboro, Arkansas will play for MAC this upcoming fall.  She was a Prep Volleyball High School All-American in 2019. She played for a very successful program that won back-to-back 5A state championships including a 35-0 season her senior year.  Johnson had 9 of the 15 points in the deciding game against Greenwood to ensure the Lady Hurricane their second consecutive state title.
Arkansas Democrat Gazette Article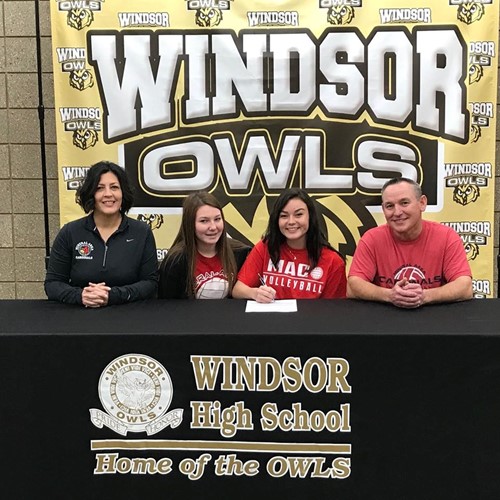 Ally Moore, a Libero from Windsor High School in Imperial, Missouri, has signed to play for the Lady Cardinals in the Fall 2020 season.  She had a remarkable 5.6 digs per game for the Lady Owls her senior season.  She was a 4-year starter for a team that made the the final four of the state tournament her senior year.
(11/4/19)  MAC falls to Jefferson College in Region 16 Tournament.  The Lady Cards lost in five sets to the Jefferson College Vikings on Friday night in West Plains, MO.  With the loss, the Lady Cardinals finish the season at 16-11. 
The Mineral Area College Volleyball team will have an open tryout on November 10th from Noon to 2:00 pm at the Bob Sechrest Field House.  For more information contact Sami Meyer at smeyer@mineralarea.edu.
First Team All-Region 16 honors went to Alayna Rooks, Baylie Petry, and Emily Greif. Second Team honors went to Laura Danezzi and Cindy Penaloza. MAC Volleyball finished the season with a 16-11 record.
(10/30/19)  Cardinals defeat Lincoln Land in straight sets.  Mineral Area defeated The Lincoln Land Loggers (30-16) last night in straight sets.  This improves their record to 16-10. 
MAC Volleyball lost this past Wednesday, 10/23, to West Plains in a 5 set battle. MAC played tough but fell a little short. (25-21, 20-25, 25-22, 17-25, and 13-15) Alayna Rooks led the Cardinals with a career-high 20 kills, and Marieke Zink had 52 assists with 9 digs.
Next up for the Lady Cardinals is the Region 16 Tournament this weekend in West Plains.  They will play Jefferson College on Friday night at 6:30 P.M. in West Plains, MO.  The winner will face West Plains at noon at Saturday for the Region 16 Championship.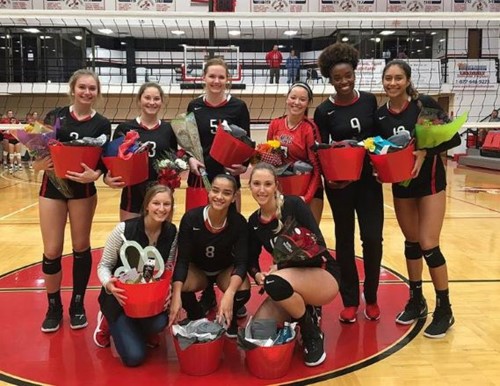 (10/25/19)  Open tryout for MAC Volleyball.  The Mineral Area College Volleyball team will have an open tryout on November 10th at the Bob Sechrest Field House.  For more information contact Sami Meyer at smeyer@mineralarea.edu.
(10/24/19)  Cardinals fall to West Plains in 5 sets.  MAC lost a Region 16 contest last night to West Plains 3 sets to 2.  With the loss, Mineral Area is now 15-10 and will play their final regular season game Tuesday night against Lincoln Land as a part of the college's Midnight Madness activities.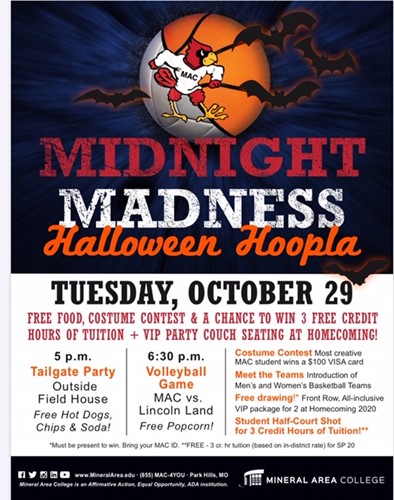 (10/15/19)  MAC goes 2-2 in the Reiver Festival. The MAC Volleyball team returned home on Tuesday, 10/8, to take on the #10 ranked Indian Hills Warriors. The Warriors beat the Cardinals in straight sets 25-21, 25-17, and 25-17. The Lady Cards traveled to the Reiver Festival at Iowa Western Community College for a weekend tournament. First up for the Cardinals was the #3 ranked Seward County. MAC fell to Seward in 3 straight sets 25-6, 25-15, and 25-13. The nightcap on Friday had MAC vs Northeast Nebraska CC. The Lady Cards defeated the Northeast in a 4 set thriller by the scores of 25-20, 28-30, 25-23, and 26-24. Saturday, 10/12, started off with MAC facing the #18 ranked Panola Community College. Panola beat the Cards in 3 straight sets by the scores of 25-18, 25-19, and 25-15. The final game of the tournament for the Lady Cards was against Colby College from Kansas. The Cardinals outlasted the Trojans in a 5 game match by the scores of 25-21, 25-19, 21-25, 11-25, and 15-13. MAC Volleyball is now 15-8 on the season.

The Mineral Area Volleyball team will host Jefferson College on Wednesday, 10/16, this week. Game time will be at 6:30 pm
(10/4/19)  MAC defeats Lake Land in straight sets.  The Lady Cardinals got back on the winning track last night in a home victory over The Lake Land Lakers (IL).  Mineral Area won 25-18, 25-20, 25-17 to improve to 13-5 overall.  They will play a home contest on Tuesday, October 8th against Indian Hills at the Bob Sechrest Field House.  Game time is set for 6:00 P.M.  Indian Hills is currently the 7th ranked team in the nation. 
(10/3/19)  Lady Cardinals fall to West Plains.  MAC lost last night 3 games to 1 in West Plains, MO.  The loss drops their record to 12-5 overall and 1-1 in Region 16.  They will try to get back on the winning track tonight against Lake Land.  The game time is at 6:00 P.M. at the Bob Sechrest Field House.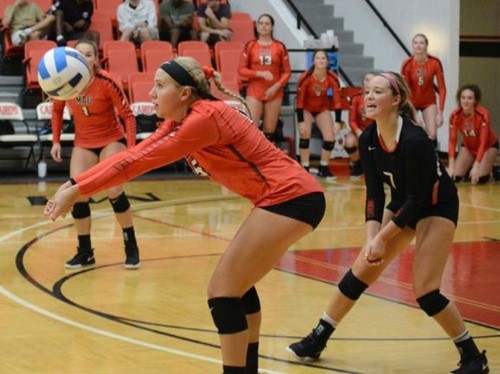 Daily Journal Photo
(10/1/19)  MAC back in action tomorrow night.  The Mineral Area Volleyball team will return to action Wednesday and Thursday. Wednesday, 10/2, MAC travels to West Plains for a Region 16 match-up starting at 6:30 pm. On Thursday, 10/3, the Lady Cardinals return home for a match against Lake Land starting at 6 pm. 
(9/23/19)  Former Cardinal All-American Shelby Meyer dies.  The MAC family was hit with tragedy this weekend as former All-American Shelby Meyer passed away Saturday morning.  The official statement from the college:
"We are saddened to hear of the loss of former Mineral Area Volleyball player Shelby Meyer.  We offer our most sincere condolences to her family, friends, coaches, and teammates.  They will be in our thoughts and prayers during this unimaginably difficult time" 
MAC is canceled tomorrow against Kaskaskia.