Apr 11, 2019 - 10:00 AM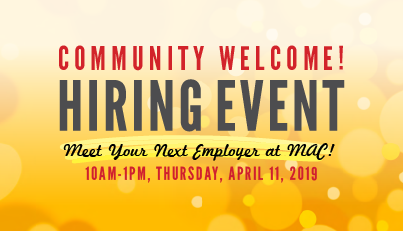 Hiring Event
Community Welcome
10am-1pm, Thursday, April 11, 2019
Mineral Area College, Sechrest Field House
Meet your next employer at MAC!
Deep Breath. Chin Up. You Got This.
The massive Community Hiring Event will once again take place this Thursday, April 11 from 10:00 a.m. to 1:00 p.m. in the Bob Sechrest Field House at Mineral Area College. The event is free and open to the public.
The event is sponsored by Mineral Area College's Career Services and the Missouri Job Center of Park Hills. Community members and students interested in employment or internship opportunities are encouraged to dress professionally and bring at least 15 copies of an updated resume.
According to Alison Sheets, MAC's Director of Career Services, "The Community Hiring Event will be particularly helpful for MAC students, alumni, and community members looking for part-time summer work or a rewarding career with a reputable local company."
Dress 2 Impress will once again provide business attire for those interested in getting a free professional head shot courtesy of MAC's Media Services.
Becky Murphy, Functional Leader at the Missouri Job Center of Park Hills, stated, "We are happy to partner with Mineral Area College again. Past hiring events at MAC were a success for our local employers and our job seekers."
Both Sheets and Murphy would like to recognize and thank event partners including the Farmington Regional Chamber, Desloge Chamber, Park Hills/Leadington Chamber, and Bonne Terre Chamber for assisting with hospitality and social media promotion.
"Thanks to our collective efforts, we are anticipating 50 employers from civic, manufacturing, construction, health care, food service, retail, and other industries," continued Sheets. "All of these employers have job opportunities and are looking forward to speaking to area students, graduates, and community job seekers."
The following employers are confirmed for the Community Hiring Event:
 - Centene Corporation
 - Daily Journal
 - Farmington Correction Center
 - Farmington Fire Department
 - MERS Goodwill
 - Mineral Area CPRC
 - North St. Francois County R1 Schools
 - ServPro of Farmington
 - US Census Burea
 - YMCA
MANUFACTURING
 - Botkins Lumber Co
 - Forte Products
 - Gilster-Mary Lee Corp
 - Manpower
 - MetalTek International
 - Piramal Glass
 - Piva
 - Purcell Tire
 - Talent Force
 - TG Missouri
CONSTRUCTION & MINING
 - Above All Tower Climbing
 - Bade Roofing
 - Carl R. Jones Excavating and Hauling
 - Lee Mechanical Contractors
 - Pense Brothers Drilling
 - SGI Specialty Granules
 - The Doe Run Company
HEALTH CARE
 - A1 Home Care
 - Athletico Physical Therapy
 - Camelot Nursing & Rehab
 - Georgian Gardens
 - Integrity
 - Kindred at Home
 - LIFE Inc.
 - NHC Desloge
 - Pyramid Home Health
 - Reliable Home Care
 - Southbrook Skilled Nursing Facility
 - Southeast Missouri Behavioral Health
 - Southeast Missouri Mental Health Center
FOOD SERVICE AND RETAIL
 - Chaumette Vineyard
 - Crown Valley Winery
 - Lowe's Home Improvement
 - MauriceS
 - McDonald's
 - Menards
 - Midwest Light and Sign
 - Qdoba
 - Steak-n-Shake
 - Walmart
More Information
For more information about the Community Hiring Event contact Alison Sheets at 573-518-3848, or Vickey Bonney / Mike Campbell at the Park Hills Job Center at 573-518- 2431.
Presented by the Missouri Job Center and Mineral Area College