Sep 18, 2019 - 10:00 AM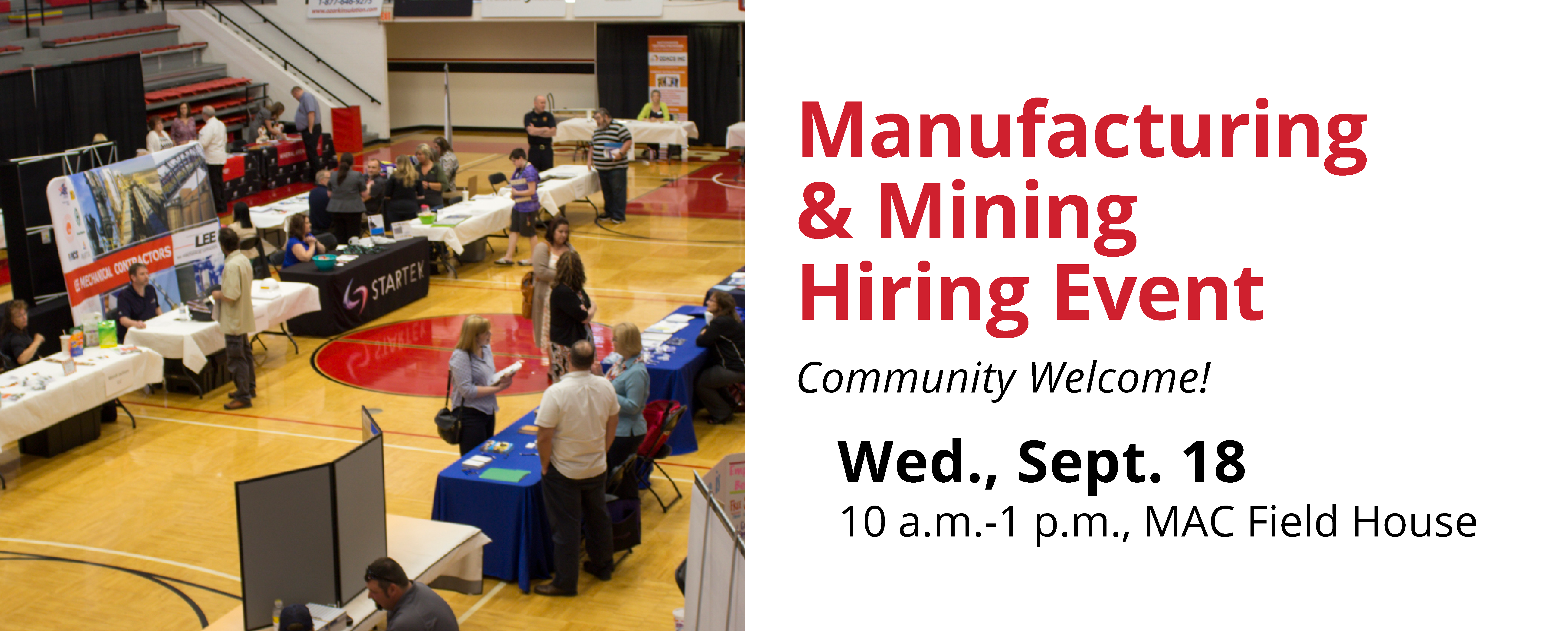 Manufacturing & Mining Hiring Event
Community Welcome!
Wed., Sept. 18
10 a.m.-1 p.m., MAC Field House
Mineral Area College (MAC) Career Services and the Park Hills Job Center will match local workforce talent with local employers at a manufacturing and mining hiring event on Wednesday, September 18 from 10 a.m. to 1 p.m in MAC's Robert E. Sechrest Field House.
According to Missouri Economic Research and Information Center, the manufacturing industry has 19,088 statewide jobs, growing 10.7% from the prior year. The mining industry has 1,206 statewide jobs, a weekly state average wage of $1,286, and experienced a 6.3% percentage of growth from the prior year (as of 4th quarter 2018).
Job seekers should bring their resume and will have the chance to speak with mining and manufacturing employers from our region who have a variety of current job openings.
"We are excited to send two Doe Run Company representatives to the upcoming MAC hiring event." said Madeleine Ehrlich, Recruiting Support Specialist at The Doe Run Company, "Currently, we have approximately 35 openings offering a rewarding career opportunity for the Southeast Missouri job seeker."
Information will be available about the tuition-free Missouri Manufacturing Technician Program at Mineral Area College. This workforce initiative by Governor Mike Parsons is a short-term, 100-hour training program that is designed to help individuals gain the skills and abilities to begin a successful career in manufacturing. College representatives will be in attendance to share more information about this program and to begin the enrollment process for the 40 available tuition-free spots. Tours of the Advanced Manufacturing Lab will also be offered.
The Park Hills Job Center has secured several employers for the hiring event: Doe Run Company; Nestle Purina; Purcell Tire; Lee Mechanical; Forte; Valley Minerals; MetalTek; Talent Force; Piva; Botkin Lumber; and US Tool Group. Event coordinators anticipate more manufacturing and mining companies will attend. Employer registration deadline for a free booth is September 4.
For more information, contact Becky Murphy, functional leader at the Park Hills Job Center, at (573) 518-2431 or rmurphy@mersgoodwill.org.