Dec 13, 2019 - 7:30 PM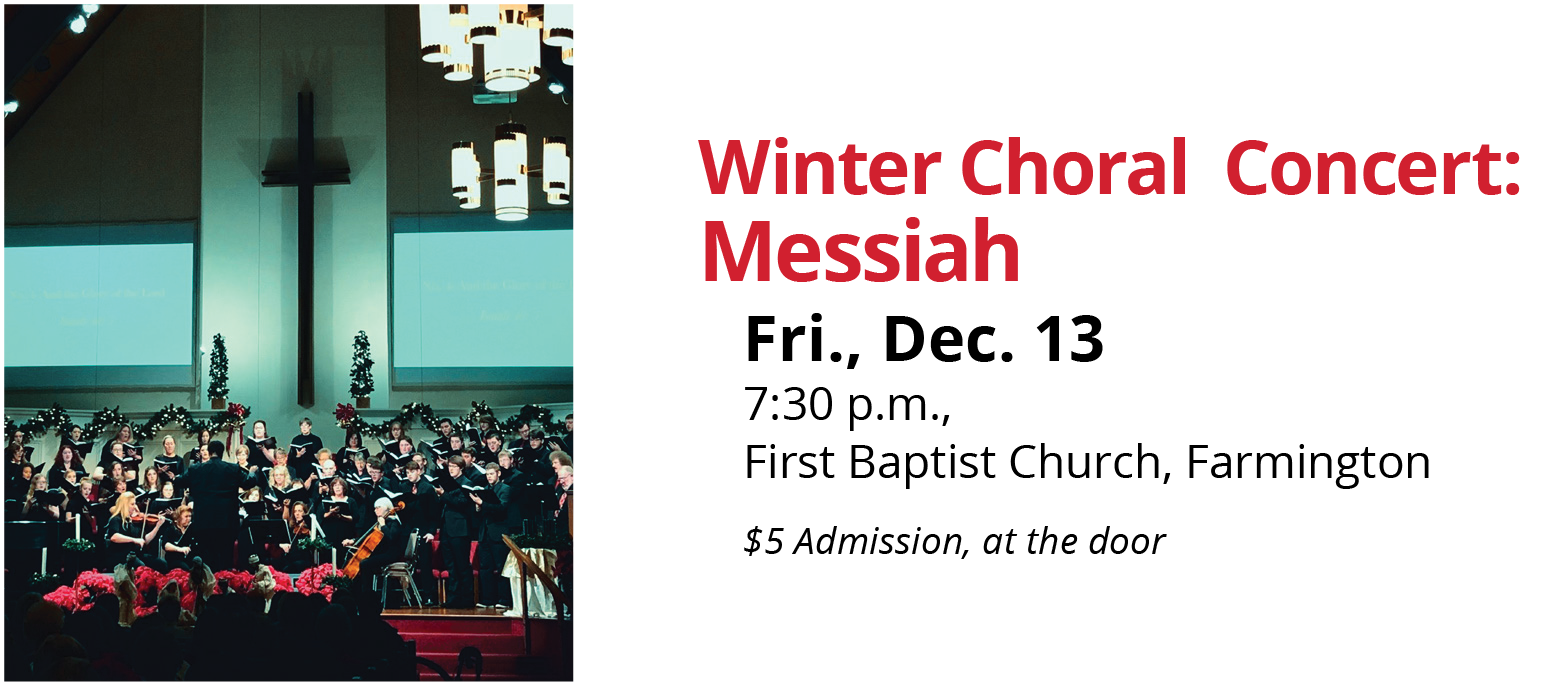 The Mineral Area College (MAC) Department of Music will present a Winter Choral Concert on Friday, December 13, at 7:30 p.m. MAC Community Singers and MAC Singers will perform G.F. Handel's holiday classic, "Messiah", conducted by MAC Director of Choirs Harry Cecil.
The performance will take place at First Baptist Church, 210 N. A Street, in Farmington. Admission is $5 at the door the evening of the event. The choirs will be joined by The Rosewood Ensemble, a St. Louis-based professional string group.
 "This is our exciting bi-annual event," Cecil said. "There are very few musical compositions that are as popular and renowned as this masterwork. Handel's Messiah was impactful in its inception, impactful after his death, and is still one of the most commonly performed oratorios in the world today! For our performance, we will present select movements from Parts I and II of Messiah, the scriptural landscape that leads up to the birth of Christ."
 In 1741, George Frideric Handel constructed the oratorio Messiah as a biblical chronicle following the full life of Christ; and although the work was first performed near the end of the Lent season—a few weeks before Easter—during Handel's life, it became popular following Handel's death to perform the work during the Advent season leading up to Christmas.
 Handel's Messiah was not the first oratorio that he composed nor was it his last, but it was his most significant. Through various positions in numerous countries, Handel gained exposure to many compositional styles, in which he employed most of them in this masterful work. Handel used his experiences with the Italian opera and Italian oratorio; he married this with his exposure to the German cantata and the English anthem. This profusion of music germinated into over 50 numbers, three sections, and over 2½ hours of music. "It is nothing short of divine intervention that Handel completed this work in less than three weeks," Cecil said. Debuted in 1742, Messiah has lived on in concert series, festivals, churches, and schools for the last two centuries.
 Please come join the MAC Community Singers and MAC Singers in their winter concert celebration of this masterpiece.  It is sure to amaze and inspire in this "most wonderful time of the year."  In addition to the performance of Messiah, the MAC Singers will present wonderful holiday music to further enhance your festive mood.
 For more information about the Winter Choral Concert, please contact Harry Cecil, 573-518-2230 or hcecil@mineralarea.edu.