Patriot Nations: Native Americans in Our Nation's Armed Forces
Oct 14 - Nov 14, 2019 - 8:00 AM - 5:30 PM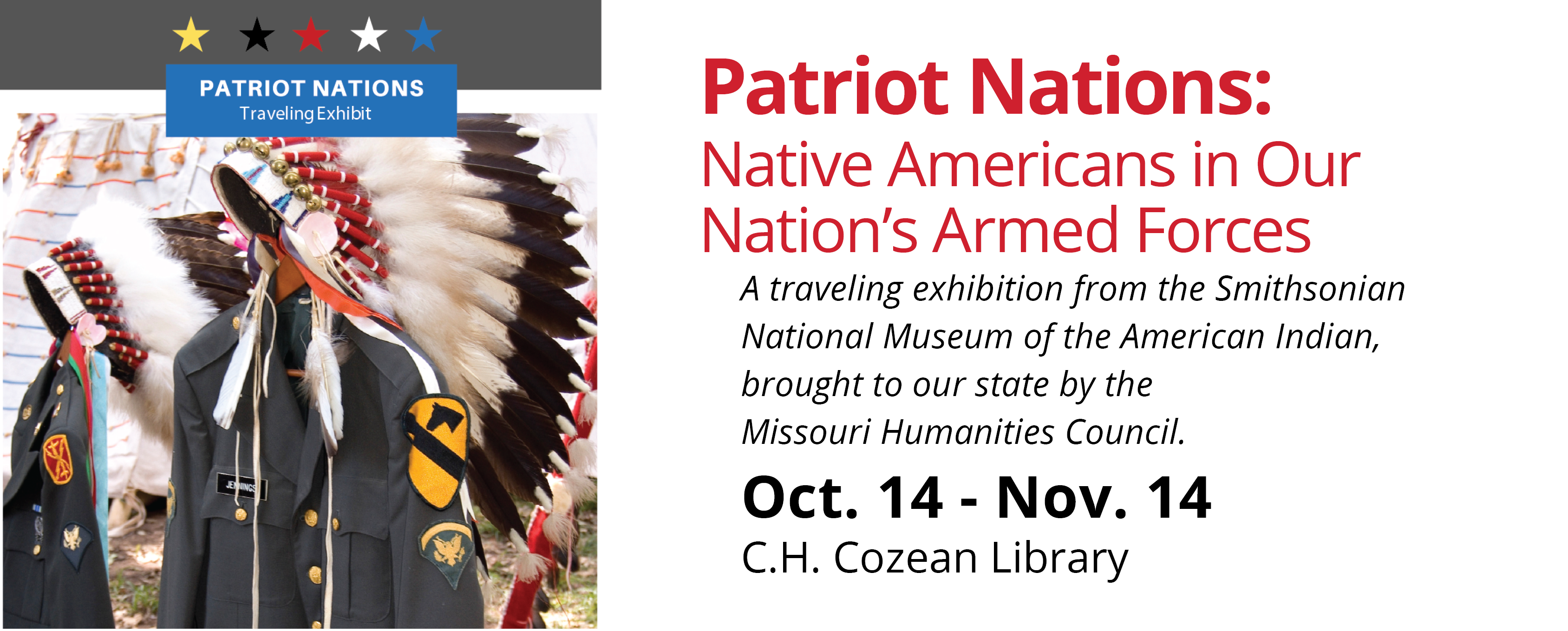 Mineral Area College is proud to host "Patriot Nations: Native Americans in Our Nation's Armed Forces" in the C.H. Cozean Library from October 14 through November 14, 2019.  
This traveling exhibition is from the Smithsonian National Museum of the American Indian and brought to Missouri by the Missouri Humanities Council. Patriot Nations explores the ways in which Native men and women have served America's Armed Forces in every major military encounter from the Revolutionary War to today's conflicts in the Middle East. Visitors to the Patriot Nations exhibit will learn how Native American servicemen and women served to protect and defend the United States, through a series of engaging and historic photographs and narratives. 
Patriot Nations: Native Americans in Our Nation's Armed Forces was produced by the Smithsonian's National Museum of the American Indian. The exhibition was made possible by the generous support of the San Manuel Band of Mission Indians. 
The exhibit may be viewed Monday-Thursday, 7:30 a.m.-5:30 p.m; and Friday, 7:30 a.m.-4:00 p.m. Several special events are also planned in conjunction with the exhibition: 
-  Saturday, October 19 at 11:00 a.m., Suzanne Michelle White will present a Native American Storytelling event focusing on traditional stories told primarily by Choctaw, Cherokee, and Delaware Nations/tribes, all of which White is a member of or descended from.  
- Wednesday, October 30 at 11:00 a.m., Galen E. Gritts, member of the Cherokee Nation of Oklahoma and a lifelong resident of Missouri will present "Being Cherokee", a brief overview of American Indians and the story of the Cherokees up to the present day, explaining how they came to cross Missouri on the Trail of Tears. 
- Thursday, November 7 at 11:00 a.m., Jim Duncan will present "The Majesty of the Osage", an overview of the long history of the Osage in Missouri. 
You can learn more by visiting the NMAI website at www.AmercianIndian.si.edu 
For more information, contact Melissa Hopkins, C.H. Cozean Library Director at mhopkins@MineralArea.edu or (573) 518-2177.