Feb 14-16, 2019 - 7:00 PM - 7:00 PM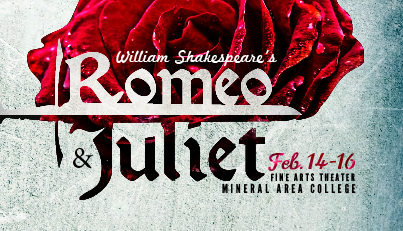 MAC Little Theatre Guild presents Romeo & Juliet
Feb. 14-16, 2019
7pm, MAC Fine Arts Theater
Tickets: MAC Bookstore (573) 518-2106 or at the door, $7 public, $3 All Students and Seniors
Mineral Area College's Little Theatre Guild is getting ready to perform "Romeo and Juliet," a dramatic story by William Shakespeare, where two star-crossed lovers meet their untimely demise. It is the classic tale filled with love, comedy, dynamic sword fighting and despair.  
Performances will be held at 7 p.m. nightly Feb. 14 through Feb. 16 in the Fine Arts Theater at the Park Hills Campus. Doors open at 6:30 p.m. Tickets are $7 general admission or $3 for all students and senior citizens. They are available at the MAC Bookstore or at the door on the night of the performances.
MAC Theater Director Chuck Gallaher says, "Romeo and Juliet may be the most popular and certainly the most performed play written by Shakespeare. With its themes of the value and forcefulness of love against all odds, I felt like this would be a great play to open up on Valentine's Day."
The cast list includes:
Montague: Frank Miller; Lady Montague: Katie Vineyard; Romeo Montague: Michael Cantrell; Mercutio: Dorian Carrillo; Benvolio: Ian Miller; Abram: Jacob Henderson; Balthasar: Kevin Bohenkamp; Friar Lawrence, John Jones; Capulet: David Orzel; Lady Capulet: Shelley Bishop; Juliet Capulet: Hannah Hale; Nurse: Laura Raymer; Tybalt: Sandra Szendrey; Paris: Zach Pinkley; Gregory/Servant 2: Courtlyn Dane; Peter/Sampson/ Servant 1: Hunter Reese; Prince: Jonathan Turner; Friar John/Citizen/Party Goer: Abigail Long; The Apothecary: Ricky Phillips, Chief Watchman/Citizen/Party Goer: Faith Smothers; Watchman/Citizen/Party Goer: Destiney Korando. 
For the Little Theatre Guild's next performance, Patricia Resnick's "9 to 5," being performed Apr. 10 through Apr. 13, auditions will take place at 2 p.m. Feb. 17 in the Fine Arts Theater at MAC on the Park Hills campus. Please have a one-minute song accompaniment. Be sure to bring comfortable clothes for a dance audition as well. Actors will be performing a cold read as well.