May 29 - Aug 24, 2020 - 2:10 PM - 3:10 PM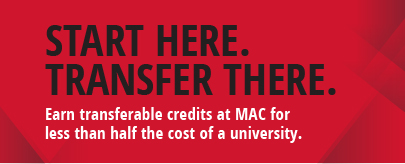 Start Here. Transfer There.
Not sure about going away to a university this fall? Think about enrolling at MAC instead.
Small classes, conveniently located campuses and dedicated instructors make MAC a great place to earn your associate degree or certificate. And if a bachelor's degree is your goal, you'll find plenty of transferable credits for less than half of what you'd pay at a university.* You can get your start here and then transfer there. It's an affordable, quality education. And it's close to home.
We're offering both on-campus and online courses in the fall.
For more information about how to get started at MAC, contact our Admissions office at (573) 518-2228 or admissions@mineralarea.edu
Our Financial Aid representatives are ready to help you through the financial aid process. Contact them at (573)518-2133 or FinAid@mineralarea.edu 
*2019-20 MAC in-district tuition & fees vs. average of Missouri public university resident tuition & fees. Source: dhewd.mo.gov