Mineral Area College Athletics
Latest News:  
(11/4/19)  MAC Cross Country wins the national title.  In their first-ever attempt, MAC won the NJCAA Division III National Championship this weekend in Westfield, Massachusetts.   In their second season of competing at the NJCAA level, MAC was able to end the 8-year reign of Harper College (IL). 
Hall of Fame Head Coach Steve Davis, who lead Potosi High School to seven state titles has quickly turned the Cardinals into a national champion.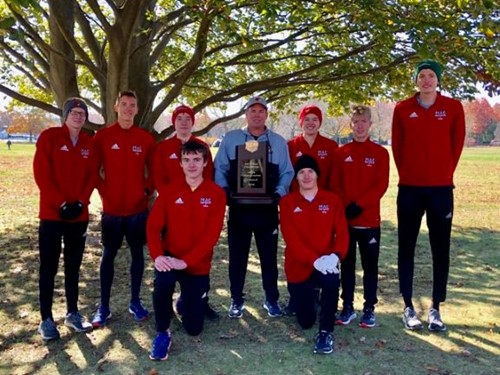 Here are the results from the meet:
The Mineral Area College Cross Country Teams were represented at the NJCAA Division III Cross Country National Championships this past Saturday, November 2nd by ten MAC student-athletes.  The competition took place at Stanley Park in Westfield,
Massachusetts, and had over 40 junior college schools throughout the United States participating.  The MAC Men's team had their best races of the season and came away with a National Championship for their effort.  Three of the "Running Cardinals" won All American honors for their races, with freshman Donovan Denslow-3rd, freshman Wyatt Elliott-4th, and freshman Jacob Arnold-9th, all placing in the top 15 overall in a race that had 200 runners.  For the MAC women, Hailey Cortez and Nani Brewington both finished their freshman cross country campaigns running their fastest races of the season; with Cortez narrowly missing an All American spot placing 18th.  Complete Mineral Area Cross Country results for the National Meet were as follows:
Men 8K:
Donovan Denslow
3rd-26:43
Wyatt Elliott
4th-26:51          
Jacob Arnold
9th-27:16                                              
Sam Toppins
22nd-28:00                                 
Dylan Cisne
27th-28:20                                              
Alex Ahrens
45th-29:09                                             
Bryce Mings
77th-29:54
Women's 5K:      
Hailey Cortez
18th-21:19
Nani Brewington
30th-22:19
Complete National Results are at IC4ATrack.com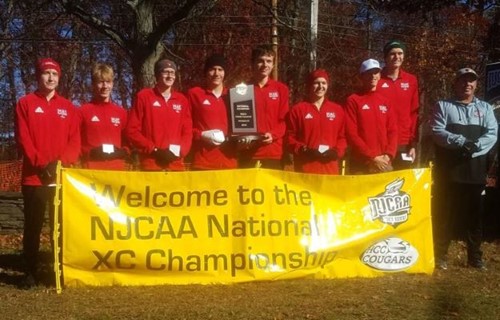 (10/2/19)  Dan Martin named Head Soccer Coach.  Mineral Area College is announcing the hiring of Dan Martin to be the 1st head soccer coach at Mineral Area College.  MAC will begin participating in soccer next fall.  You can read more about Coach Martin in the press release below:
Martin Named MAC Soccer Coach
(PARK HILLS) –Mineral Area College (MAC) is pleased to announce the hire of Dan Martin as the college's first-ever soccer coach. He will serve as the head coach of both the men's and women's soccer teams at the college when they begin their inaugural season in the 2020-2021 academic year.
Martin has most recently been the associate head coach for the men's and women's soccer teams at State Fair Community College in Sedalia, Mo. Before that, he coached at the high school level as the assistant coach at Notre Dame High School and as the head coach at Cape Central High School, both in Cape Girardeau, Mo. Martin also has experience coaching club soccer for Sporting Missouri Valley in Lee's Summit, Mo., and United Soccer Club of Southeast Missouri in Jackson, Mo.
 "I am extremely excited to be named the first-ever Head Coach at Mineral Area College, this is truly an honor," said Martin, "Starting a collegiate soccer program from the ground up will be a difficult task but one I embrace. I look forward to this challenge and can't wait to get started!"
Martin played NCAA Division 1 soccer at the University of Louisville in 2002 and 2003 following two years at State Fair Community College. He also played for a year in the U18 Scottish Premier League with Motherwell Football Club in Motherwell, Scotland. Martin spent four years on the soccer team at Christian Brothers College High School and eight years in the Tony Glavin Soccer Club, both in St. Louis, Mo.
"We're excited to be adding Coach Martin to our staff," said MAC Athletic Director Jim Gerwitz, "He is familiar with soccer programs from St. Louis to Southeast Missouri, which will help us attract regional talent to the MAC teams. I have confidence that this new program will have a strong start under Martin's leadership."
MAC announced the addition of the soccer program earlier this fall in response to the growing popularity of the sport in the region and as part of a strategy to increase both enrollment and access to higher education. The soccer teams will both compete in the National Junior College Athletic Association (NJCAA) at the Division II level. Six scholarships will be offered for both the men's and women's teams. Martin will begin recruiting later this fall and will be looking to fill each roster with up to 30 athletes.
Martin has a Bachelor of Arts in Sport Administration from the University of Louisville and an Associate of Arts from State Fair Community College.
Martin and his wife Diana have a 3-year-old daughter, Mia.  
For more information about the MAC soccer program or athletics, contact Jim Gerwitz, Athletic Director at (573) 518-2134. Visit MAC online at www.MineralArea.edu.