Mineral Area College Athletics
(3/25/20)  Gary Koch named to 2020 MBCA Hall of Fame class.  Gary Koch was named to the MBCA Hall of Fame.  Here is the release from the MBCA:
"With more than 600 wins, Coach Gary Koch, has proven time and time again that he produces on the basketball court. Coach Koch has had coaching stops at Jefferson College (as an assistant), and as a head coach at the following Missouri high schools: Ste. Genevieve, Valle Catholic, St. Pius X, Festus, and Pacific.  He is the Head Women's Basketball Coach at Mineral Area College and has been for 14 years.  During this time his teams have won two Regional Championships and three Conference Championships.  He has also coached nine All-Americans and 22 Academic All-Americans.  His team has been ranked as high as 9th in the nation. Coach Shawn Erickson expands, "Coach Koch has dedicated over 40 years of his life growing the game of basketball in the state of Missouri. His passion for teaching the game the right way and caring about teaching his players to become good citizens will leave lasting impressions on the players and coaches he has worked with over his career."
(3/16/20)  Spring sports canceled.  All spring sports at MAC have been canceled for the remainder of the season by the NJCAA.  Please check back periodically for announcements about recruiting, schedules, camp announcements, etc. 
(2/29/20)  Booster Club announced.  The MAC Athletic Department has announced a booster club for the remainder of the year. 
Many topics were discussed including special seating prices that reserve your seat for the year, parking privileges, as well as the possibility of sponsorship of the court in the Bob Sechrest Field House.  The money that could be raised would help supplement athletic department funds in a way that could be used towards specific sports or the athletic department as a whole.  If you are interested in joining the club, please contact Jim Gerwitz at 573-518-2134 or Kevin Thurman at 573-516-2261
Latest News:  
(11/4/19)  MAC Cross Country wins the national title.  In their first-ever attempt, MAC won the NJCAA Division III National Championship this weekend in Westfield, Massachusetts.   In their second season of competing at the NJCAA level, MAC was able to end the 8-year reign of Harper College (IL). 
Hall of Fame Head Coach Steve Davis, who led Potosi High School to seven state titles has quickly turned the Cardinals into a national champion.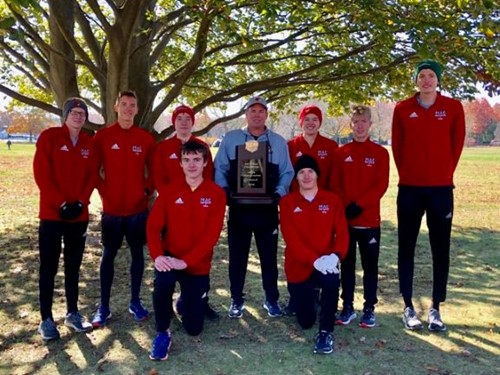 Here are the results from the meet:
The Mineral Area College Cross Country Teams were represented at the NJCAA Division III Cross Country National Championships this past Saturday, November 2nd by ten MAC student-athletes.  The competition took place at Stanley Park in Westfield,
Massachusetts, and had over 40 junior college schools throughout the United States participating.  The MAC Men's team had their best races of the season and came away with a National Championship for their effort.  Three of the "Running Cardinals" won All American honors for their races, with freshman Donovan Denslow-3rd, freshman Wyatt Elliott-4th, and freshman Jacob Arnold-9th, all placing in the top 15 overall in a race that had 200 runners.  For the MAC women, Hailey Cortez and Nani Brewington both finished their freshman cross country campaigns running their fastest races of the season; with Cortez narrowly missing an All American spot placing 18th.  Complete Mineral Area Cross Country results for the National Meet were as follows:
Men 8K:
Donovan Denslow
3rd-26:43
Wyatt Elliott
4th-26:51          
Jacob Arnold
9th-27:16                                              
Sam Toppins
22nd-28:00                                 
Dylan Cisne
27th-28:20                                              
Alex Ahrens
45th-29:09                                             
Bryce Mings
77th-29:54
Women's 5K:      
Hailey Cortez
18th-21:19
Nani Brewington
30th-22:19
Complete National Results are at IC4ATrack.com