Nov 15, 2023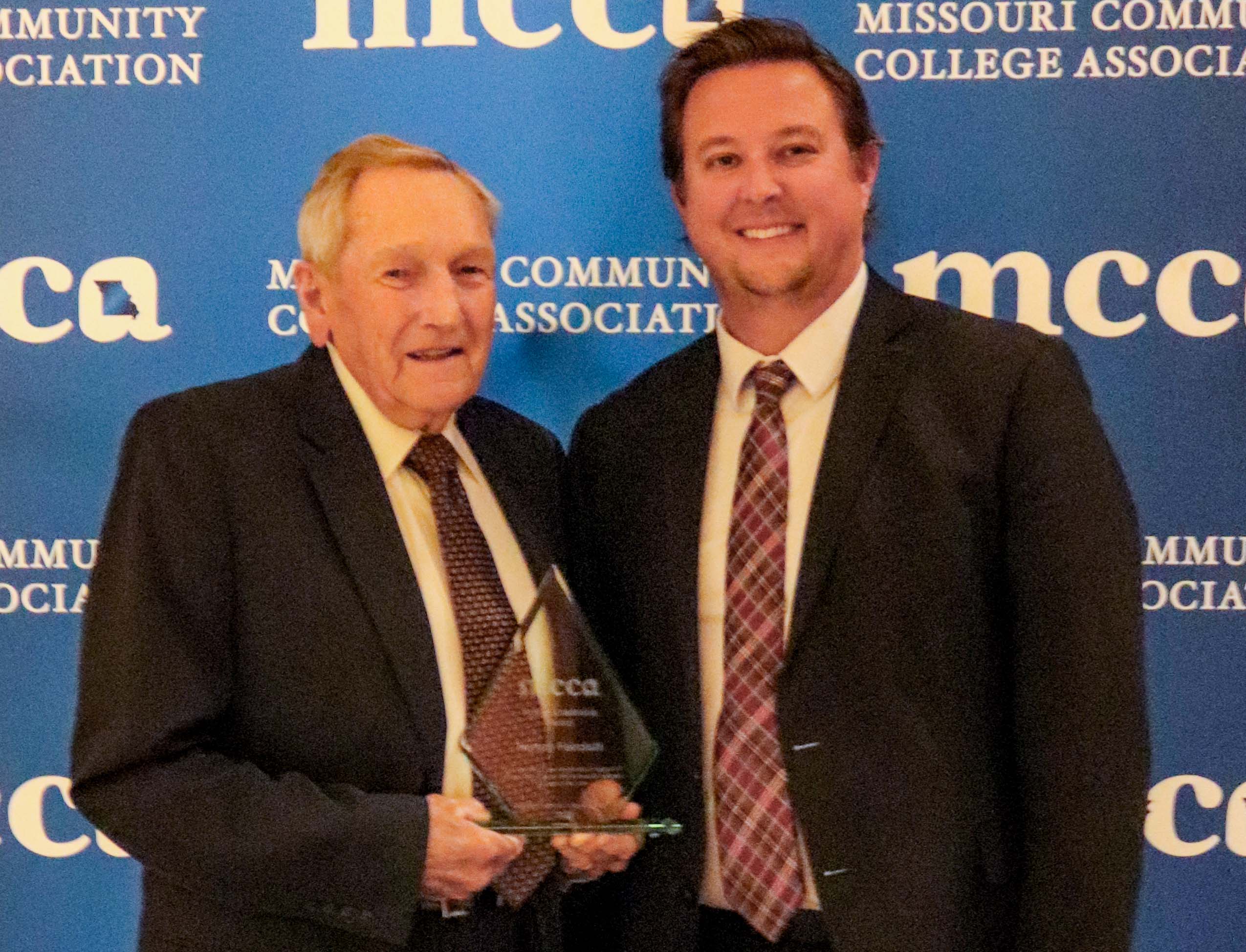 Harvey Faircloth and MAC President Dr. Joe Gilgour
Faircloth Receives Trustee Leadership Award
Harvey Faircloth of Park Hills received the Missouri Community College Association Trustee Leadership Award at the organization's annual convention held in Kansas City, November 8-10, 2023.
The award is presented annually to a community college trustee whose work and leadership has substantially advanced the mission of community colleges.
Mineral Area College (MAC) nominated Faircloth for the award in recognition of his 18 years of service on the college's Board of Trustees, where he worked with three MAC Presidents and supported numerous campus growth initiatives. His long-term service to the college has been motivated by his belief that MAC is the greatest asset of the area.
Ever the supporter of staff and students, he is a familiar face at events all over campus, from academics to athletics to the arts. During his tenure on the Board, campus improvement projects included four major renovations and the recent construction of three new buildings, which allowed MAC to expand career and technical education programs.
Mineral Area College President Dr. Joe Gilgour said Faircloth's dedication to the college over the past 18 years has provided a strong foundation upon which the college can continue to grow.
"A graduate of MAC's predecessor, Flat River Junior College, Harvey is a testament to the impact a community college can have on a person and community," Gilgour said. "His many years of devoted service as a trustee has allowed us to fulfill our mission while embracing progress. I can think of no one more deserving of this award."
In addition to his service to MAC, Faircloth is an active member of the community, having served on the Central R-3 school board for 33 years; two terms on the Missouri School Board Association Board of Directors; 43 years as a Lions Club member; and a member of the Park Hills-Leadington Chamber of Commerce.
Faircloth is a member of Farmington First Baptist Church where he serves as Deacon, sings in the choir, and has participated in several overseas mission trips. Local sports fans know him from his 42 years umpiring high school and college baseball, 25 years officiating high school basketball, and as Central's football (49 years) and basketball (31 years) announcer.
About MCCA
The Missouri Community College Association (MCCA) is a statewide organization through which Missouri's community colleges share ideas and advance common goals.  MCCA provides advocacy, information, professional development, and networking opportunities for community college faculty, staff, administrators, and trustees.