Glass Receives Community College Association Award

Nov 15, 2023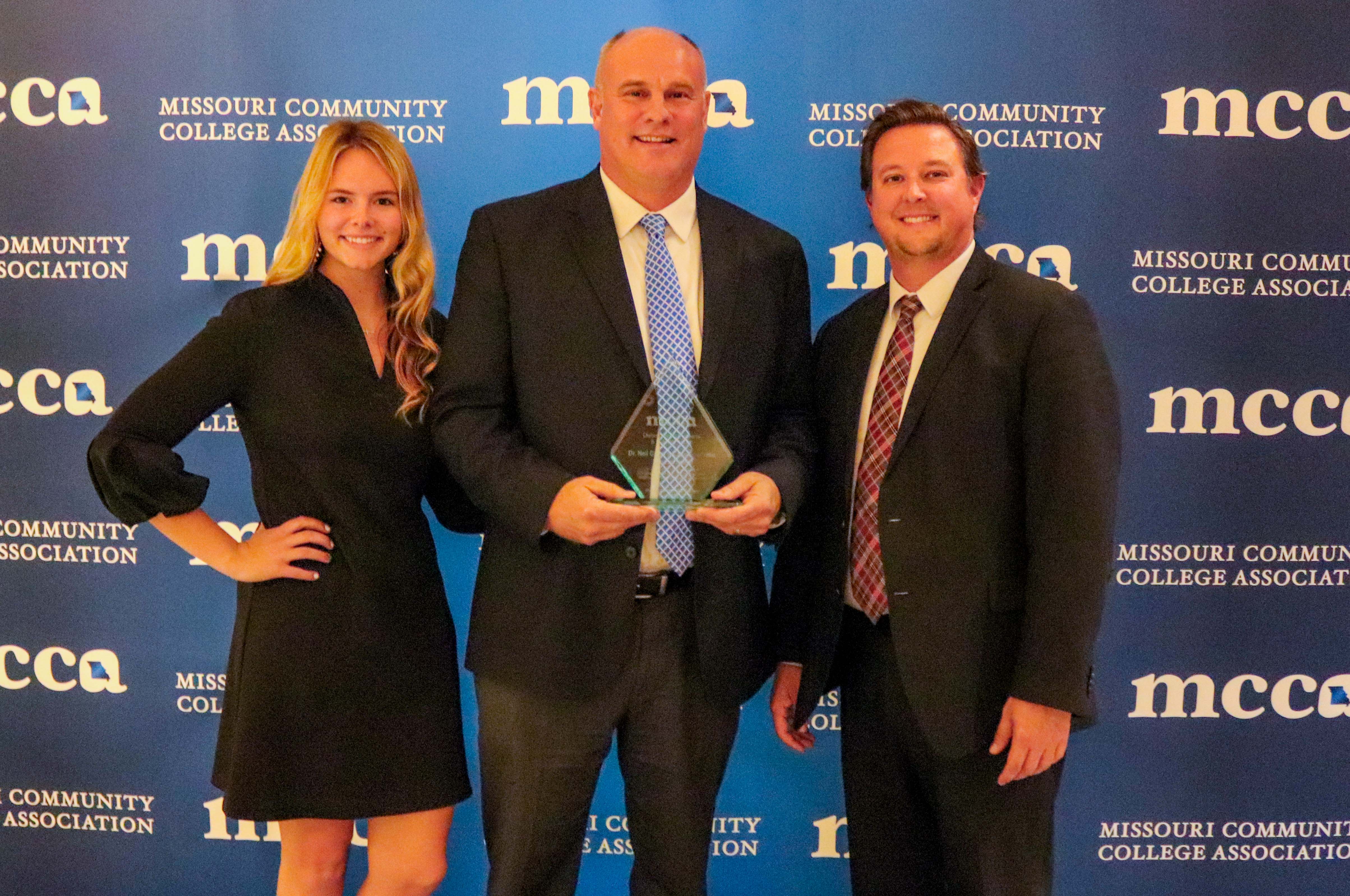 MAC graduate Lisken Glass, Retired Cape Girardeau Public Schools Superintendent Dr. Neil Glass, and MAC President Dr. Joe Gilgour.
Glass Receives Community College Association Award
Retired Cape Girardeau Public Schools Superintendent Dr. Neil Glass received the Missouri Community College Association Distinguished Business & Industry Award at the organization's annual convention held in Kansas City, November 8-10, 2023.
The Distinguished Business & Industry Award is presented to individuals and businesses that have engaged in significant partnerships with their local community college to stimulate economic activity and support students and programs.
Mineral Area College (MAC) nominated Glass for the award in recognition of his leadership and support as the school districts of Cape Girardeau County transitioned to the MAC service region.
MAC President Dr. Joe Gilgour said that just two years after the initial transition request from the Cape Girardeau Public School District, MAC opened its fourth outreach site in Cape Girardeau. At the time, Cape Girardeau County was one of the largest populations in Missouri without its own community college campus.
Opened in fall 2022, MAC's Cape Girardeau campus is seeing substantial growth each semester, with 85 students enrolled in 1022 credit hours for fall 2023. Small class sizes and affordable tuition, including acceptance of the A+ Scholarship, are two significant benefits for MAC Cape students, who are prepared to enter the workforce or transfer to a university after completing a certificate or degree.
"The approval of Mineral Area College in Cape Girardeau was a historic day for all community colleges striving to respond to local needs," Gilgour said. "We're grateful for Dr Glass's leadership, which has allowed us to offer access and affordability to students seeking a community college education. We look forward to serving the Cape Girardeau region for many years to come."


About MCCA
The Missouri Community College Association (MCCA) is a statewide organization through which Missouri's community colleges share ideas and advance common goals.  MCCA provides advocacy, information, professional development, and networking opportunities for community college faculty, staff, administrators, and trustees.