Oct 31, 2023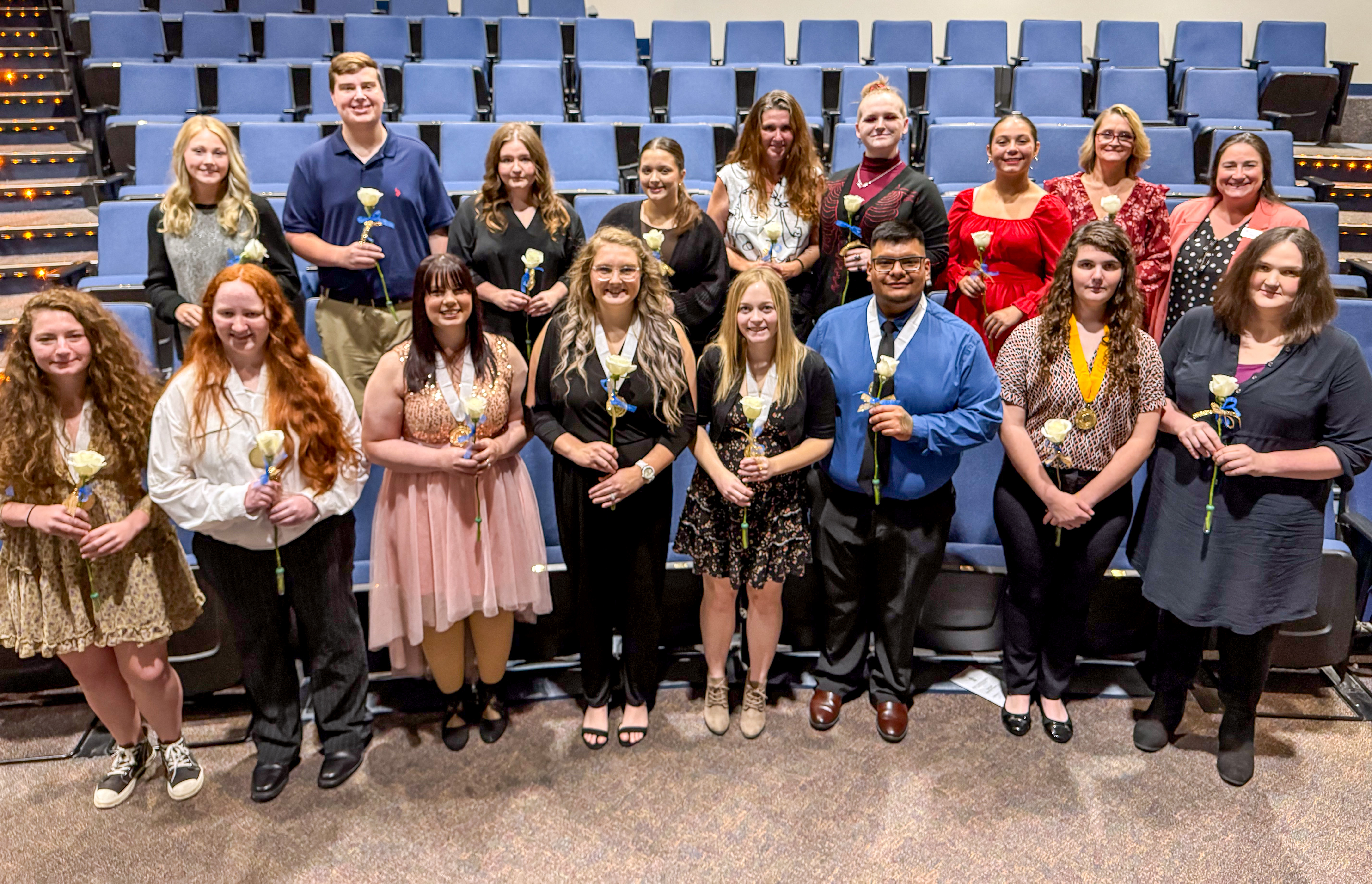 Front row (l-r): Alyssa Sample, Fredericktown; Eden Mack, Centerville; Chelsi Robertson, Fredericktown; Jenna Groves, Park Hills; Audrey Fisher, Bismarck; Jonathan Cabral, Farmington;  Meagan Denkler, Farmington;  Annette Lewis, Bonne Terre 
Second row (l-r): Haley DiMercurio, Ste Genevieve;  Seth Wright, Mineral Point; McCoy Lucy, Ironton; Elizabeth Kaufman, Farmington;  Heather McClelland, Fredericktown; Claire Bennett, Desloge; Rosa Arami Chavez, Park Hills;  Julie Faulkner, Pilot Knob; Alison Sheets, PTK Advisor 
PTK Honor Society Inducts New Members
Sixteen Mineral Area College (MAC) students were inducted into the Lambda Chapter of the Phi Theta Kappa (PTK) Honor Society on Wednesday, October 25, 2023, during a ceremony in the college's Fine Arts Theater.
PTK is the official honor society for two-year colleges. Its hallmarks are fellowship, service, leadership, and scholarship. More than 3.8 million students have been inducted into membership, with approximately 250,000 active members among 1,300 community colleges in 13 nations.
The Lambda Chapter is the second-oldest active PTK chapter in the state of Missouri, having been established in 1926 at MAC's predecessor, Flat River Junior College.

Congratulations to the 2023 inductees:
Claire Bennett, Desloge; Jonathan Cabral, Farmington; Rosa Arami Chavez, Park Hills;  Meagan Denkler, Farmington; Haley DiMercurio, Ste Genevieve; Julie Faulkner, Pilot Knob; Audrey Fisher, Bismarck; Jenna Groves, Park Hills; Elizabeth Kaufman, Farmington; Annette Lewis, Bonne Terre; Eden Mack, Centerville; McCoy Lucy, Ironton; Heather McClelland, Fredericktown; Chelsi Robertson, Fredericktown; Alyssa Sample, Fredericktown; and Seth Wright, Mineral Point.
Over the coming year, the members will work together on an Action Project to impact the campus community. PTK Sponsor Alison Sheets said she's proud of the group's most recent project—the Cardinal Student Lounge.
"The students identified a need on campus and pitched the idea of a new student lounge to the administration. Over the summer,  an old classroom was converted to a student lounge, with a conference table, and comfortable chairs, ideal for relaxing, playing cards, or hosting a club meeting," Sheets said. "This new lounge has the capability to host in-person or virtual meetings, is stocked with board games, and is open for use by any MAC students, campus clubs, and organizations."
The PTK Lambda Chapter 2023-2024 officers include Meagan Denkler, President; Jonathan Cabral, Vice President of Leadership; Chelsi Robertson, Vice President of Communication; Jenna Groves, Vice President of Fellowship; Alyssa Sample, Vice President of Scholarship; Audrey Fisher,  Vice President of Service; Eden Mack, Vice President of Fundraising.
For more information on PTK, contact Alison Sheets, asheets@MineralArea.edu