Thomas Receives Missouri Pathfinder of the Year Award

Nov 15, 2023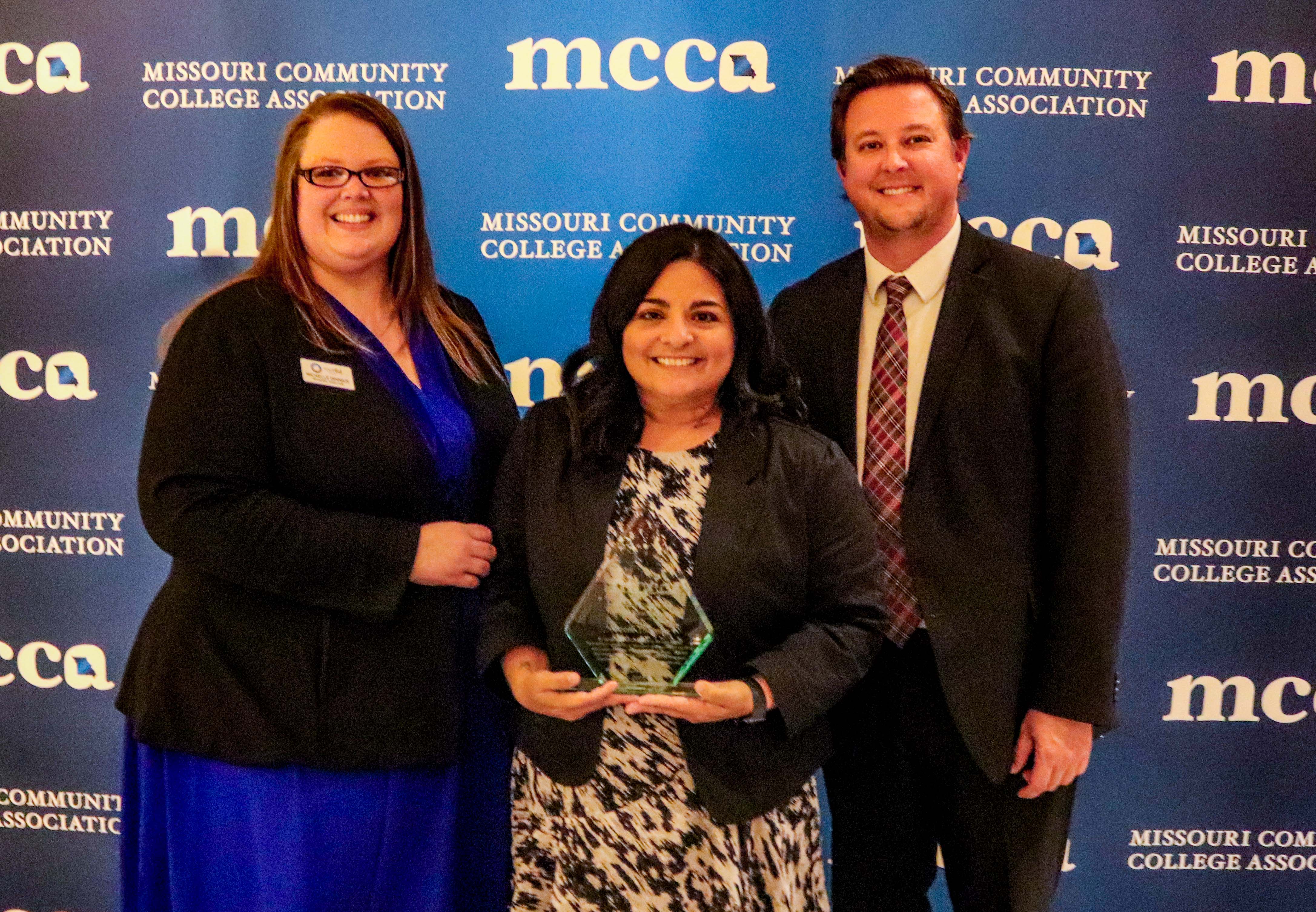 rootEd Missouri Regional Director Michelle Dinnius, Nicole Thomas, and MAC President Dr. Joe Gilgour.
Thomas Receives Missouri Pathfinder of the Year Award
Nicole Thomas, rootEd Advisor at Arcadia Valley High School, received the Missouri Pathfinder of the Year Award at the Missouri Community College Association Annual Convention held in Kansas City, November 8-10, 2023.
The award is presented annually to "unsung hero" high school teachers and guidance counselors for their outstanding efforts in assisting students with their college-going plans. Criteria for the award include encouraging students to attend an MCCA college, assisting students in identifying a career and postsecondary path, providing mentorship or maintaining contact with students to assist them with achieving their goals.
Thomas was nominated by both Mineral Area College (MAC) and Ozarks Technical Community College (OTC) for her dedication to the students at Arcadia Valley High School, where, among other college and career exploration initiatives, she developed the T.I.G.E.R. Certificate, providing students with opportunities to increase college and career readiness skills while in high school.
To complete the program, students must complete a resume and cover letter, have recommendation letters on file, participate in at least eight Lunch & Learn sessions, attend one or more college or career planning days, participate in job shadowing experiences, complete a mock interview, complete community service hours, and complete the FAFSA.
​"Nicole is thorough and organized and works with each senior individually to help them with their after high school plans," said MAC Assistant Director of Admissions Andrea Kemper. "She designed and implemented a very successful signing day, offers Lunch and Learn sessions focusing on career topics, and advocates for her students to help them succeed!
About MCCA
The Missouri Community College Association (MCCA) is a statewide organization through which Missouri's community colleges share ideas and advance common goals.  MCCA provides advocacy, information, professional development, and networking opportunities for community college faculty, staff, administrators, and trustees.
About rootEd
rootEd Missouri is a partnership among national philanthropic organization rootEd Alliance, the Missouri Department of Elementary and Secondary Education, and OTC. rootEd Missouri has placed dedicated advisors, called rootEd advisors, in 135 high schools—about one-third of all rural high schools—across the state.